CT-426
Biographical information
Homeworld
Born
Died
Physical description
Species
Gender
Height

1.83 meters

Hair color

Black

Eye color

Brown

Chronological and political information
Era(s)
Affiliation
CT-426 was a clone trooper pilot during the Clone Wars.
Biography
Edit
CT-426 started his life on the planet Kamino where he immediately began to show exceptional skill during training with bounty hunter Jango Fett. He quickly rose through the ranks and was eventually promoted to a pilot.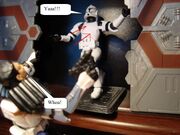 In 22 BBY, he piloted a LAAT/i Gunship for Delta Squad while they were on a mission to rescue ARC Trooper "Alpha" and Jedi General Sora Bulq from the Confederacy of Independent Systems. He deployed Delta Squad and then waited in orbit around the CIS fortress they were located in until Fixer transmissioned him requesting evacuation. It was then that he was killed by a Droideka while helping Delta Squad and the two freed prisoners board the gunship.
Behind the scenes
Edit
The numerical portion of CT-426's name/designation is a nod to the movie Aliens in which "LV-426" is the name given to the moon that the antagonist Xenomorph species resides on, although "CT-426" is never spoken in the photonovel he stars in, but is replaced with "Pilot" in favor of more believable and natural dialog.
Community content is available under
CC-BY-SA
unless otherwise noted.