Escape Off of Bozekane
Combatants
Commanders
Strength
Casualties

none

Escape Off of Bozekane was a battle in 9 BBY. It was noted to start the relationship of Momaw Nadon, Roodala, Wuher, and Kollaca. It also destroyed the Alokem Empire.
The Battle
Edit
One night in
Alokem's Palace
4-LOM
had shown up with
Kollaca
and the spices he had stolen.
Alokem
ordered the Wookiee to be shot in front of the whole audience, but
Roodala
wouldn't allow it. So she threw a thermal detonator at Alokem's throne and the detonator exploded killing Alokem. The guests made it out however.
Momaw Nadon
ran to help but
Nik Jo
stopped him. Nadon made short work of the Jawa and threw him in the fire.
Tigit
and 4-LOM escaped. Nadon, Kollaca, Roodala, and her dad
Wuher
chased after them just as the throne room caught on fire.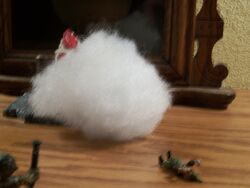 The four were to be stopped by Grubnux and Indibal. Grubnux was shot by Momaw Nadon. Indibal avenged his death by trying to kill Nadon, but Roodala saved her new friend. Tigit and 4-LOM saved Indibal and the three ran off.
Aftermath
Edit
The four went to Kashyyyk in search of Kollaca's old friend Jon Treola and meanwhile, Tigit and Indibal sent some spies to tract down the four.
Appearances
Edit
Momaw Nadon: Ithorian Exile(The Untold Stories) Chapter 1: Fall of the Alokem Empire
Momaw Nadon: Ithorian Exile(The Untold Stories) Chapter 2: Escape Off of Bozekane
Community content is available under
CC-BY-SA
unless otherwise noted.