New Republic Fighter
Production information
Manufacturer
Model

V-Wing Fighter

Class
Technical specifications
Length

7.6 meters

Width

9.1 meters

Height/depth

3.1 meters

MGLT

111

Engine unit(s)
Hyperdrive rating

Class 4.0

Hyperdrive system

Equipped

Power plant
Shielding
Hull

Titanium alloy hull

Sensor systems

Tana Ire electro-photo receptor

Armament
Crew

Pilot (1) Astromech droid (1)

Passengers

(2)

Usage
Era(s)
Affiliation
The Incom V-wing starfighter was the main all-purpose starfighter of the New Galactic Republic,so much so they became commonly referred to as the New Republic Fighter.
During the Toydarian conflict , an Squadron of V-Wings under the leadership of Luke Skywalker drove away the entire junk fleet from Hutt Space.Massive deployments of the vessel where also involved in the following Invasion of Proloxis IV as well as the Ambush at Go'Gek.
Behind the scenes
Edit
This version of the V-Wing Fighter was designed to appear in the Original Fan Film Version of Episode Seven and is the same digital model that appears in Darth Depressis's Sequel Trilogy Photo-novel.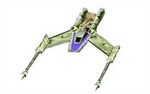 the fighter was created using photo-editing software, the photo itself includes parts from the X-Wing Fighter and the Y-Wing Fighter.
Digital Model
Edit
The three dimensional model of this fighter was constructed within the program Bryce 5.5,using portions of X-Wing Fighter and Y-Wing Fighter digital models found on www.scifi3d.com.
Appearances
Edit
Community content is available under
CC-BY-SA
unless otherwise noted.