TK-421: A Stormtroopers Story
Attribution
Writer(s)
Special effects
Publication information
Chronology
Era
Timeline

10 BBY - ?

Followed by

TK-421: EPISODE II
Star Wars: TK-421: A Stormtroopers Story is a Photo Novel by Rebelscum user Jedi_Master_CPS about the life and times of the Imperial Stormtrooper; TK-421. TK-421 is currently up to Episode II. How long this series will continue for has not yet been confirmed.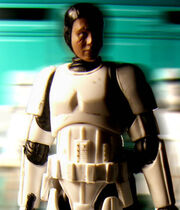 Influences on TK-421: A Stormtroopers' Story
Edit
The idea of the story revolving around a Stormtrooper was inspired by 'Trooper', a comic story that appeared in Star Wars Tales 10 and was collected in Star Wars Tales Volume 3.
Many of the key themes and the general dark feel to TK-421 was enthused by Star Wars writer, George Lucas's first feature film 'THX-1138'. There are many references to THX throughout the Photo Novel, most Notably, the protagonists "name", and that of Tex. Also the opening sequence is a subtle reference to the beginning of THX-1138.
External links
Edit
Community content is available under
CC-BY-SA
unless otherwise noted.