Star Wars: Rykrof Enloe Chapter 24: Sedition
Attribution
Writer(s)

Chewie

Images

Chewie

Special effects

Chewie

Publication information
Finished on

July 7, 2008

Media type

Widescreen photonovel

Chronology
Canon

C

Era
Timeline
Series
Preceded by
Followed by
Sedition is the twenty-fourth chapter of Star Wars: The Enloe Chronicles by Chewie. It was finished on July 7, 2008.
Opening Crawl
Edit
Rykrof Enloe Chapter 24:
SEDITION

Trade Federation Viceroy Nute 
Gunray's plot to assassinate 
Senator Amidala of Naboo has 
failed as the Badoo Corba 
infiltrators have been defeated.

Following the defeat of the 
terrorists, Rykrof Enloe has 
chosen to transport his family 
off Naboo as he fears the 
Republic will not honor its 
new pledge to provide military 
protection to the small planet.

But even as the CLONE WARS 
continue to rage across the 
galaxy, little does Rykrof 
know thay his Jedi friend, 
Kala Mly Shundi has edged 
dangerously close to the 
Dark Side of the Force...
…
Appearances
Edit
Characters
Edit
Droid models
Edit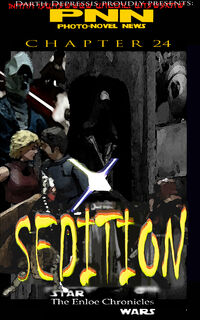 Organizations and titles
Edit
Sentient species
Edit
Vehicles and vessels
Edit
Locations
Edit
External links
Edit
Community content is available under
CC-BY-SA
unless otherwise noted.