Tex
Biographical information
Homeworld
Born

40 BBY

Died

10 BBY

Physical description
Species
Gender
Hair color

Brown

Eye color

Blue

Chronological and political information
Era(s)
Affiliation
Tex was an Imperial General during the Rise of the Empire era.
Biography
Edit
Born on Coruscant, Tex was an only child. His parents were both murdered in a back ally when he was just six years old. He spent a number of years living on the street, and was all to happy to volunteer for a position in the Galectic Empire. A promising student in the art of warfare and armed combat, Tex was quickly promoted and in 15 BBY became a General.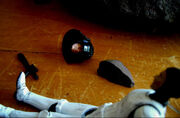 General Tex lead a squad of Stormtroopers including TK-421 on an assassination mission to Sullust in 10 BBY. The Jedi Hiro Syler that the squad were hunting ambushed them and quickly killed most of the starwars:stormtroopers. Tex then tried to throw a thermal detonator at the Jedi, only to have the jedi use the force to throw it back. The detonator narrowly missed Tex, who was decapitated only seconds later by the Jedi's Lightsaber.
Behind the scenes
Edit
The name 'Tex' is a reference to George Lucas's first feature film 'THX-1138'. In the film, the main character (THX-1138) is called 'Tex' as a nickname by his room mate.
Tex is portrayed in the photo novel TK-421: A Stormtroopers Story by the 30th anniversary action figure 'Death Star Trooper', with added armour from the Saga 'Death Star Gunner'.
Appearances
Edit
Community content is available under
CC-BY-SA
unless otherwise noted.